Westpac chief executive Peter King says the banking giant is keen to make more direct investment in fintech businesses or applications that can be rolled out to its customers, as the lender tries to position for a wave of competition in digital banking.
Speaking at Westpac's half-year results on Monday, King did not rule out putting more money into the Westpac-aligned venture capital fund Reinventure but emphasised his interest in making fintech investments directly from the bank itself.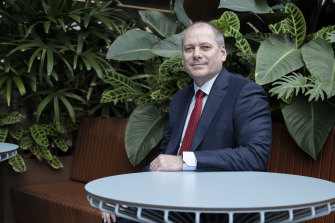 "You'll see us make more investments directly out of the bank as opposed to Reinventure, and the example this six months was the purchase of MoneyBrilliant, which is a capability to help people manage money that we'll put into our app," King told The Sydney Morning Herald and The Age.
"So, it will be probably more direct investments from the bank in capabilities that we want to use, as well as… the venture fund."
As the big banks have faced a wave of disruption from technology-based start-ups in recent years, all have set up in-house funds for technology investment – a move also adopted by other corporate giants including Woolworths and Insurance Australia Group.
Westpac has pumped $150 million into Reinventure-managed funds through three rounds and last year it made a massive windfall after the fund backed the US cryptocurrency platform Coinbase before it floated.
On Monday, King said Westpac's existing funds with Reinventure would continue, and he did not rule out making further investments in the fund. But he also said VC funds such as Reinventure were "quite long term" and had seven to 10 year investment horizons, and the bank was keen to "supplement" these investments with direct bets it could use now, such as the personal finance app MoneyBrilliant, which it bought from AMP last year.
"What we want to do is bring best of breed digital capabilities to the whole Westpac customer base," King said.
Reinventure, founded by Simon Cant and Danny Gilligan in 2014, has invested in fintechs including Coinbase, SocietyOne (now owned by MoneyMe), home lender Athena Home Loans, and non-fungible token platform Immutable. Reinventure declined to comment on Tuesday.