Brambles investors are warming to the prospect of a takeover, after the company's shares soared as much as 13 per cent following confirmation that the pallet supplier has been in preliminary talks with private equity giant CVC.
"We're not surprised to see private equity come and have a look at this. We think the valuations really attractive," Tim Wood, a portfolio manager at Brambles investor Investors Mutual, told this masthead.
Brambles' shares closed 11 per cent higher at $11.60, with the company flagging that the approach was unsolicited and may not lead to a binding proposal. No price was mentioned, but a report in the Australian Financial Review, which triggered the announcement by Brambles on Monday, mentioned an enterprise valuation of $20 billion. A figure which includes company debt.
"Brambles confirms that it has had preliminary engagement with CVC in regard to an unsolicited proposal to acquire all of the shares in Brambles," it told the ASX, confirming a report that the two parties have been in takeover talks.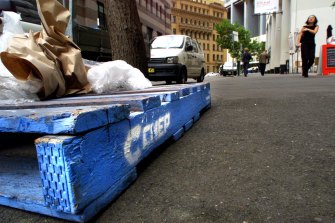 While Investors Mutual has welcomed the bid, Wood stressed that it will take an offer with an equity valuation of $20 billion, which equates to a share price close to the $14 mark, to completely win over Brambles' investors.
But first, Wood thinks that Brambles needs to get a high enough indicative offer from CVC to warrant its management opening the company's books for due diligence – and possibly to other potential suitors.
"We're pleased to see that the company is taking the bid seriously and is willing to engage. And hopefully, this will flesh out any other potential bidders … CVC may not be the only ones that are interested."
He welcomed one other significant development in today's announcement from Brambles – a statement that the company's board is also considering "other strategic options for the company that maximise shareholder value".
Investors are reading this as a signal that the board is listening to calls to split the more stable operations in Asia/Pacific and Europe from the more volatile US operations.